Hi everyone! Anett here from Anett Velsberg's Blog.
Hummus has been my healthy go-to snack for years and it never disappoints! This recipe is quick to make and results in the creamiest, yummiest hummus.
This healthy take on hummus is nourishing, delicious, and super easy because it uses ingredients you probably already have in your pantry. Best of all, you can change it up any way you like to suit your cravings. Spice it up with a dash of chili oil, add some chopped roasted red pepper for a flavor kick, whatever you've got around. Be creative!
Serving tip: traditional toasted pita bread is always a great idea, but if you've got some fresh veggies crisping in the fridge, slice up and serve alongside your homemade hummus for a low-carb healthfest.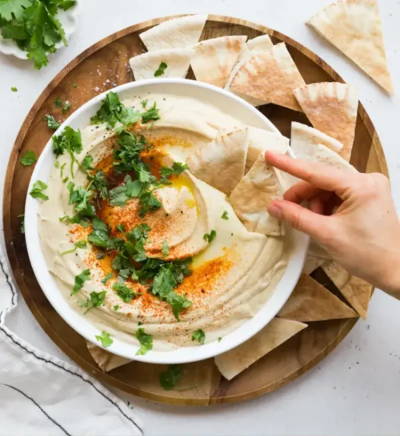 Serves: 4
Ingredients:
1/4 cup smooth, runny tahini
2 large garlic cloves
Juice from 1 lemon
1/2 cup water
1/2 Medjool date
2 cans chickpeas, drained and rinsed
Sea salt & black pepper, to taste
1-2 tbsp extra virgin olive oil
1/2 tsp ground paprika
1/4 cup roughly chopped cilantro
1-2 wholewheat pita breads, to serve
Instructions:
1. Place the tahini, garlic, lemon juice, water and date in a high-speed blender or food processor and blend until smooth and uniform, about 1-2 minutes.
2. Add the chickpeas and blend, until you get a very smooth hummus. Season with salt and pepper to taste and blend again.
3. Place the hummus in a flat bowl and top with extra virgin olive oil, paprika and cilantro.
4. Serve immediately with pita bread or refrigerate until needed. Enjoy!
Follow @anettvelsberg on Instagram for more delicious recipes x