We are so excited to announce our very first Eating For Beauty collaboration with the healthy & beautiful lifestyle blog, Spinach For Breakfast, by sisters Alyssa and Maria Tosoni. Odacité and Spinach For Breakfast both share a passion for all things health and wellness. Maria will takeover from here and tell you more about her and her sister's blog as well as introduce you to a one of a kind skin-loving latte recipe!
---
Hey everyone! My name is Maria and I am the co-founder of the healthy lifestyle blog, Spinach for Breakfast, with my sister Alyssa. We are based in NYC, and love all things health and wellness. Our approach to healthy eating is to keep cooking easy, stress-free, and delicious. :) We also recognize that health goes beyond just what we eat, and therefore we do our best to incorporate fitness, mindfulness and natural products into our routine. I am currently pregnant with my first child, so I made the complete switch to natural household and skincare products, like Odacité!
And just like health isn't only what we eat, beauty isn't only what we put on our skin! There are many ways to improve your skin with diet changes, especially when incorporating beauty-rich foods. Activated charcoal has been all the rage lately. It's is amazing for drawing out dirt, oil and pollution from deep within the pores to leave you with super clean and fresh skin. However, more and more coffee shops are popping up with activated charcoal lattes to apply the same concept to your insides! Below is a super simple recipe to make your own activated charcoal latte at home. :)
xo Maria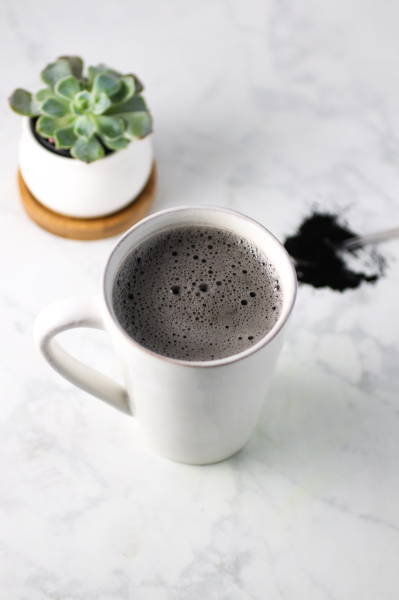 1 1/2 cups almond or coconut milk
1/2 teaspoon activated charcoal
1 teaspoon of vanilla extract
1 teaspoon of maple syrup
1/2 teaspoon of cocoa powder (*optional)
1. Heat the almond milk in a pot until hot but not boiling
2. Add the almond milk, charcoal, vanilla, maple syrup and optional cocoa powder into a blender and blend until creamy and frothy.