WHY YOU SHOULD USE A MICELLAR WATER
We asked Odacité Founder Valérie what is so special about micellar water and how it inspired her to create Blue Aura Cleansing Water. Here is what she has to say!
Q: Can you tell us what micellar water is?
Micellar water (AKA French cleanser of choice) is a no-rinse cleanser, that uses the power of micelles - tiny balls of cleansing oil that attract dirt and oil - to remove makeup and impurities in ONE QUICK and EASY STEP.
As most French women I grew up with micellar water as my cleanser of choice... It's fast and so effective and leaves your skin clean, yet never dry... FABULOUS when you have NO TIME... It's your best friend when you don't feel like cleansing your face before going to bed... It helps you stick to your skincare routine even when you don't feel like it! Just LOVE it!
Q: What inspired the creation of Blue Aura Cleansing Water?
Because micellar water is a no-rinse cleanser, its ingredients are going to stay on your skin! For Blue Aura Cleansing Water, I wanted to create an "au naturel" version of micellar water, with high performing nutrients, so that what is left on your skin after you've cleansed, support its beauty and well-being.
Blue Aura Cleansing Water not only cleanses, it refreshes and cocoons your skin in soothing and anti-pollution botanicals. It's the fairy of clean looking skin 😊
Q: Why did you choose Ayurvedic herbs?
Pollution, blue light, overexposure to toxins, stress are sadly more and more part of our daily life, creating the perfect microcosme for skin issues, like breakouts, blackheads and even premature aging.
So we turned to the power of Ayurvedic herbs to create a cleansing water that can sweep away skin-degrading pollutants— before they take their toll.
We infused the trinity of Ayurvedic herbs: TURMERIC + NEEM + HOLY BASIL in fresh organic ALOE VERA juice - (we swapped the water for skin-goddess Aloe) - to create a cleanser that feels like a breath of fresh air to your skin.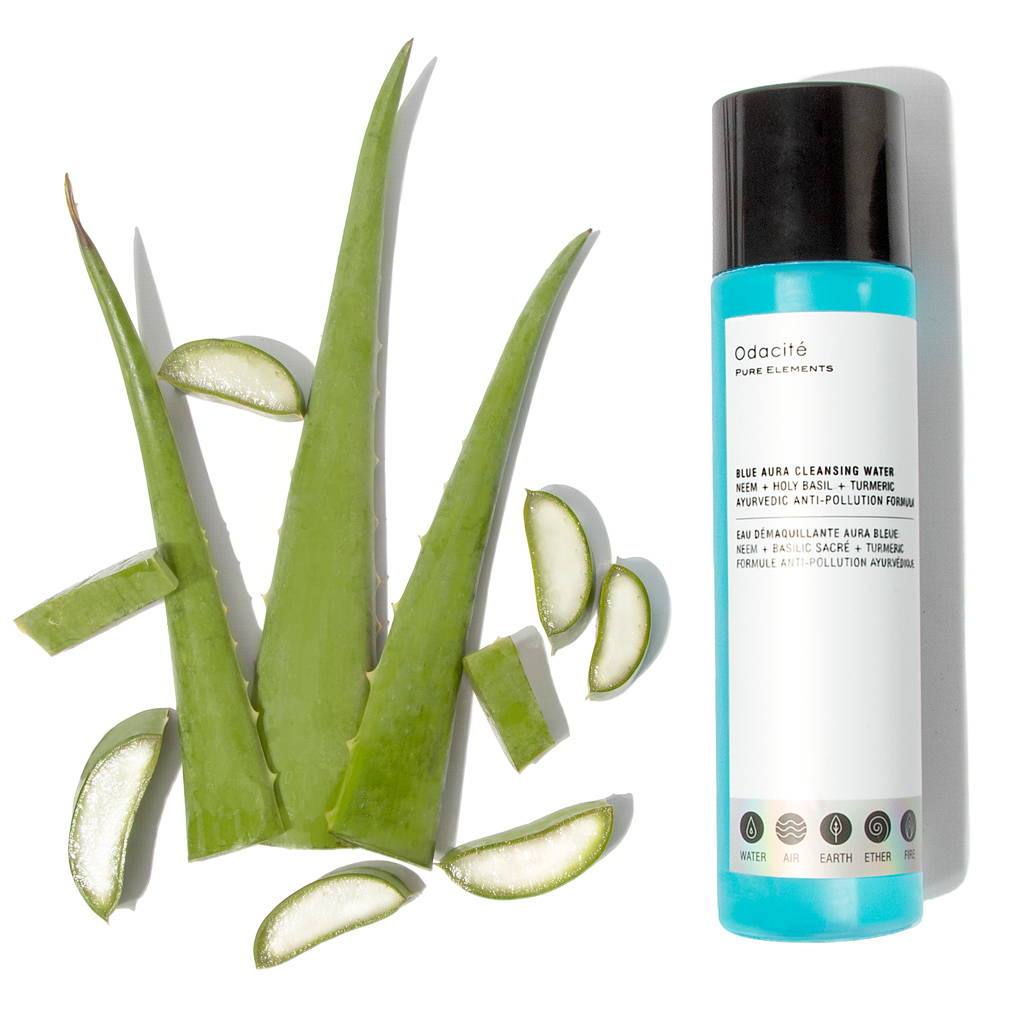 Q: Why did you swap water for Aloe Vera juice?
Water does not do anything for your skin, in fact if you let water dry on your skin it will make your skin dryer! Not to mention that the quality of our water is far from exceptional.
So instead of water we opted for a base of fresh organic Aloe Vera juice, to harvest its skin-goddess virtue. Our Aloe Vera is organically grown in California, rich in skin-loving minerals, vitamins and antioxidants, its wealth of nutrients makes it an ingredient of choice for a good skincare routine.


Q: What makes the Blue Aura Cleansing Water blue?
This is pure plant alchemy magic, created by the maceration of Turmeric, Neem, Holy Basil and Grapefruit into Aloe Vera… no artificial colorant here - just herbal power!
Q: Who is the Blue Aura Cleansing Water for?
Fabulous for all skin types, this is magic water that will cleanse, refresh, purify, tone and never dry your skin.


Q: How do you use the Blue Aura Cleansing Water in your skincare routine? Can it be used morning & night?
It can be used as a cleanser, a toner, a makeup remover...

Super easy to use, and so refreshing!

Pour generously on a cotton pad, dab the wet cotton pad onto your skin and wipe gently, et voila!

It is such a multifunctional product, use morning and/or night. Fabulous on the go or after exercising.

Love it in the morning to wake up my skin with the best nature has to offer. Better than wipes to remove makeup and so natural and refreshing, forget the wipes!
---
I love to use

Blue Aura Cleansing Water

to cleanse my makeup brushes.

On the go, pour a little amount in your palms, rub hands, for a quick cleanse + moisturize hands.