Retail Rendezvous: Stacey O
Stacey Overstreet opened up her studio in Columbia, South Carolina in 2008 after enjoying an eleven-year career in Journalism and Public Relations. She began searching for a way to incorporate her love for all things holistic with her desire to connect and help people on a more intimate level, which is when she decided to return to school for esthetics and massage therapy. Fully immersed in the skincare world, she would soon discover Odacité as a tool of confidence for her clients.
Q+A
What is the philosophy behind your business? Beauty, Strength, Confidence is the tagline for Stacey O. Studio and is very important to me. I want my clients to feel supported, encouraged and happy after they leave my table. I try to send them lots of good energy and love through my hands during the sessions to help clients feel "untangled" from the stress of the daily grind for the hour they are with me. I don't love my work because it makes clients "look prettier," even though taking care of your skin will definitely reap benefits in that department. I love my work because when my clients leave feeling strong and confident, their inner and outer beauty will soar. When you feel your best, that carries through into so many areas of your life.
Why do you choose Odacité for your clients? I've always felt compelled to highlight and focus on clean beauty. It is so important for our long term health and the health of our environment. I studied Ayurvedic medicine in India in 2012 and have always been drawn to the more natural things in life. When I discovered Odacité, I was instantly in love. After researching and discovering their high standards for sourcing, purity, integrity, efficacy and clean ingredients (including many of my beloved Ayurvedic herbs), I knew I had to bring Odacité to Stacey O. Studio.
What are some of your favorite Odacité products and skin tips? Everyone at Stacey O. Studio adores Odacité, from clients to team members. There seriously isn't a product that we don't love. If I had to pick a favorite, I would pick the All-Embracing Serum. It is so hydrating and great for all skin types. Many of my clients and I have started rituals at home with the Odacité Gua Sha stones, using the All-Embracing Serum for a velvety, yet controllable, glide. I want my clients to look forward to spending a few minutes on their skin at night instead of dreading it. Seeing the instant lift and glow from their Gua Sha sessions, along with the beautiful textures and botanical aromas from the Odacite products, helps to encourage this.
What are some of your favorite Odacité products and skin tips? My clients know that the one non-negotiable in their skin care routine is SPF! Up to 80% of our lines and wrinkles can come from sun exposure. I love Odacité's new SPF 50 Sheer Sunscreen Mineral Drops. We just got that in stock last week and it is already my new go to!
Click here to experience Odacité at Stacey O. Studio!
---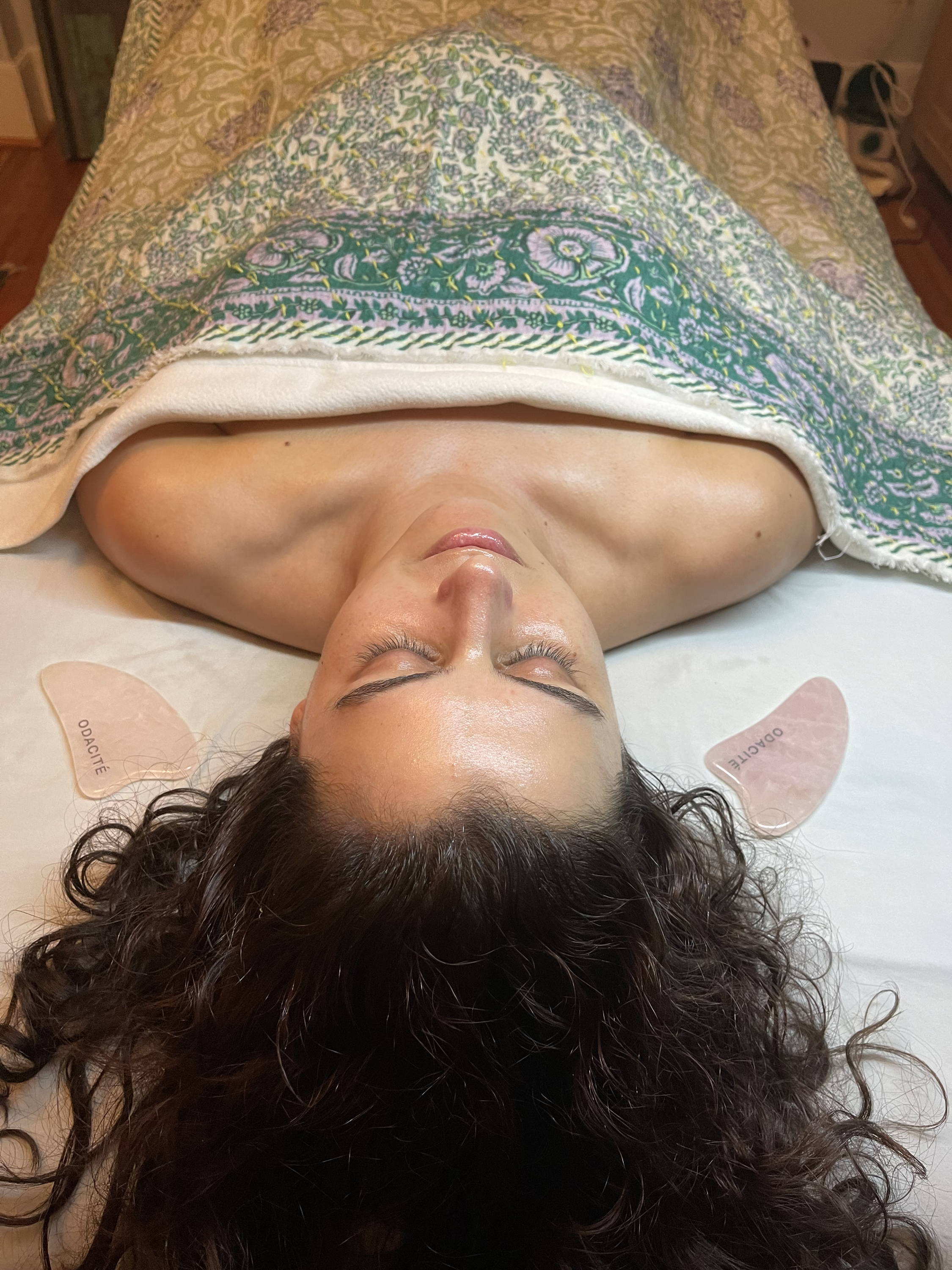 ---
Want to become a part of our Odacité Affiliate Family?