Hey everyone! Maria here again from Spinach for Breakfast. Today I am sharing a super green and really delicious Green Goddess Risotto recipe! It's a mix between a cozy comfort dish, and a way to get all your veggies in. :) As you can probably guess from the name of our blog, a good portion of our diet is plant based. Plant based meals, when well-balanced, tend to be great for the gut as they are full of healthy, gut friendly fiber. Plant based foods, such as fruits and vegetables, are also full of vitamins, minerals and anti-oxidants that promote healthy skin! Plus, they make you feel good. :) Enjoy!
---
1 1/2 cups of brown rice
4 cups of vegetable broth
2 cloves of garlic, minced
1 small red onion, diced
olive oil
sea salt
lemon pepper
1 additional cup of vegetable broth
3 zucchinis
1 bunch asparagus
1 bag of frozen peas (about 2 cups)
1/2 teaspoon of garlic powder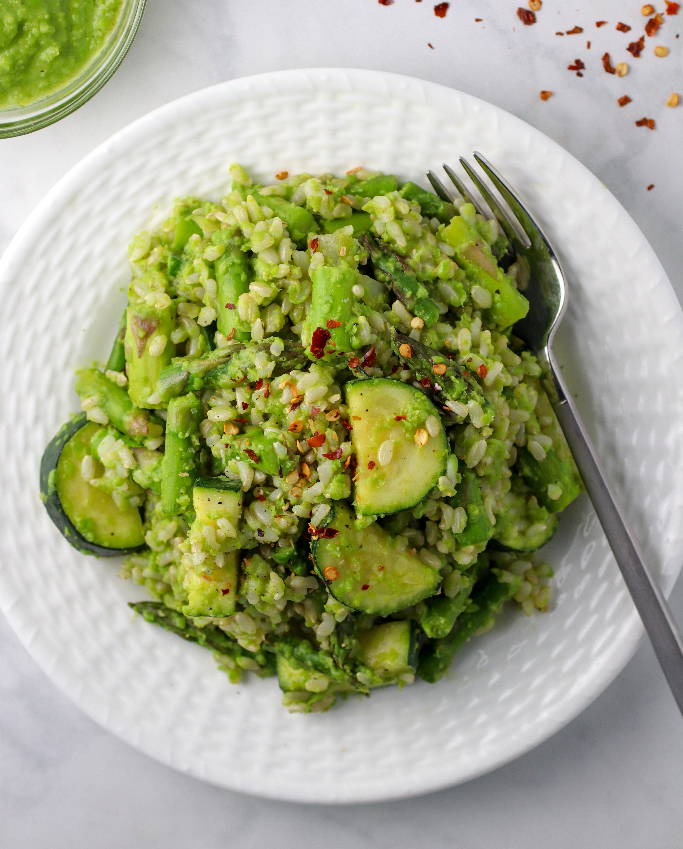 1. Preheat the oven to 400*f.
2. Drizzle oil into a a large pan with tall sides (or in a soup pot).
3. Add the onion and sauté for a few minutes.
4. Add the garlic.
5. Add the brown rice and sauté for 1-2 min, stirring frequently.
6. Add the 4 cups of vegetable broth and bring to a boil.
7. Once boiling, reduce to medium-low and simmer for 40 min, stirring occasionally.
8. Cut the zucchini in half and then cut into half rounds.
9. Cut the bottom inch of the asparagus stalks off and toss. cut the remaining stalks into inch sized portions.
10. Place the veggies on a baking tray and toss with olive oil, sea salt, and lemon pepper. place in oven and roast for about 30 min.
11. Once the liquid has mostly evaporated from the rice, cook the peas in a separate pot until just warm.
12. Drain the water and place peas in food processor with 2 tablespoons of olive oil, lemon pepper seasoning, 1/2 teaspoon of garlic powder, and 1 cup of vegetable broth. puree until smooth.
13. Add the pea mixture to the rice, and continue cooking until the rice is almost cooked (but still a bit al dente) and the liquid is evaporated off, leaving a creamy texture.
14. Mix in the roasted vegetables, and add more sea salt, pepper or lemon pepper to taste.