Are Sunscreens Really Safe?

In recent news, some large skincare brands have pulled aerosol sunscreen products from shelves across the country in response to a nationwide recall. A few months ago, Hawaii also passed a bill that bans sunscreens containing oxybenzone and octinoxate. As a skincare consumer, you may be confused about where to turn when it comes to protecting your skin. How can we practice sun care safely and effectively?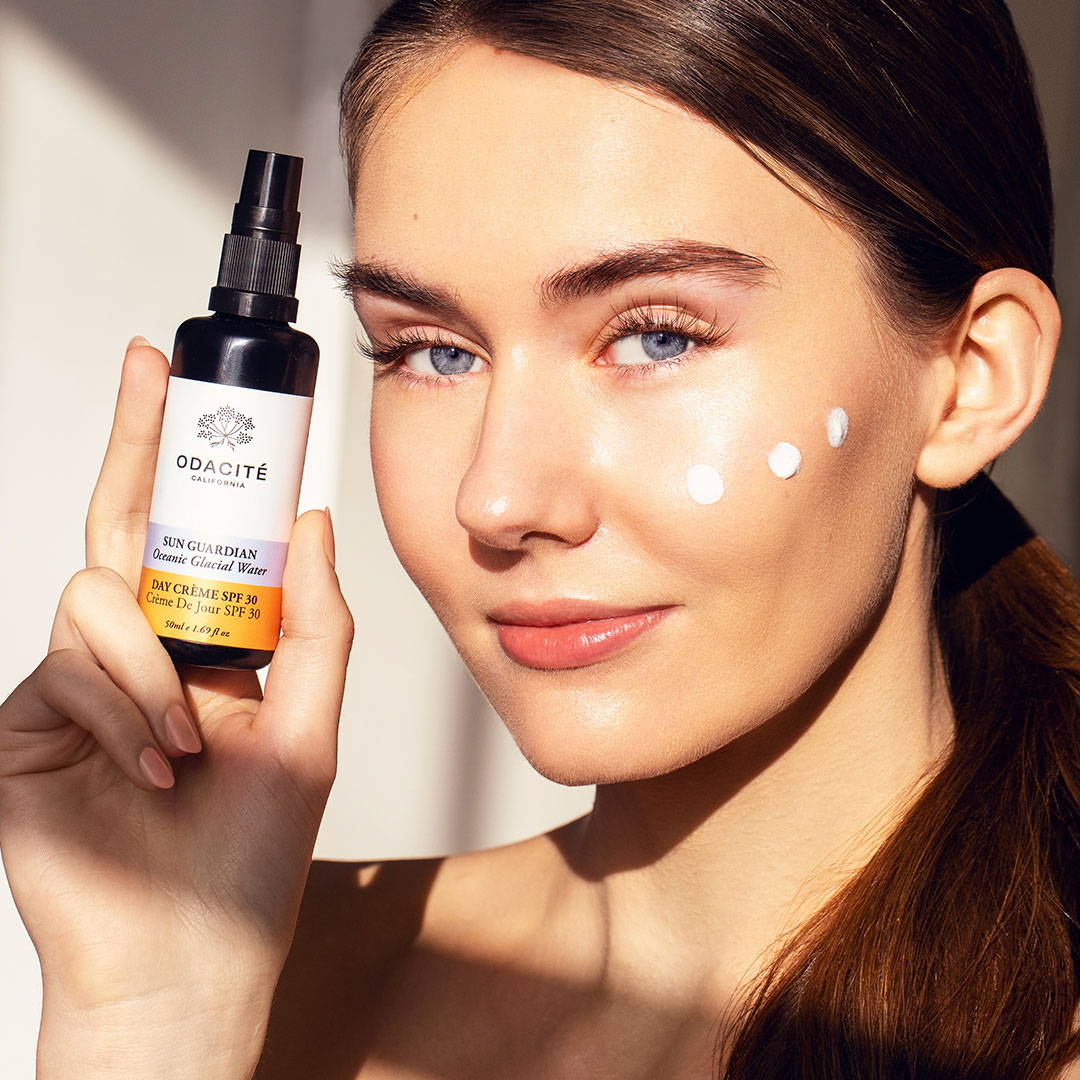 Is sunscreen safe?
The short answer is yes, of course! However, not all sunscreens are created equal. While sunscreen is a necessary part of your skincare routine to help shield your skin from harmful UVA/UVB rays, you need to consider your options: physical sunscreens formulated with minerals and chemical sunscreens formulated with — well, chemicals! Unfortunately, chemical sunscreens are surrounded by several environmental safety concerns. The answer is not to avoid sunscreen, but to switch to physical sunscreen!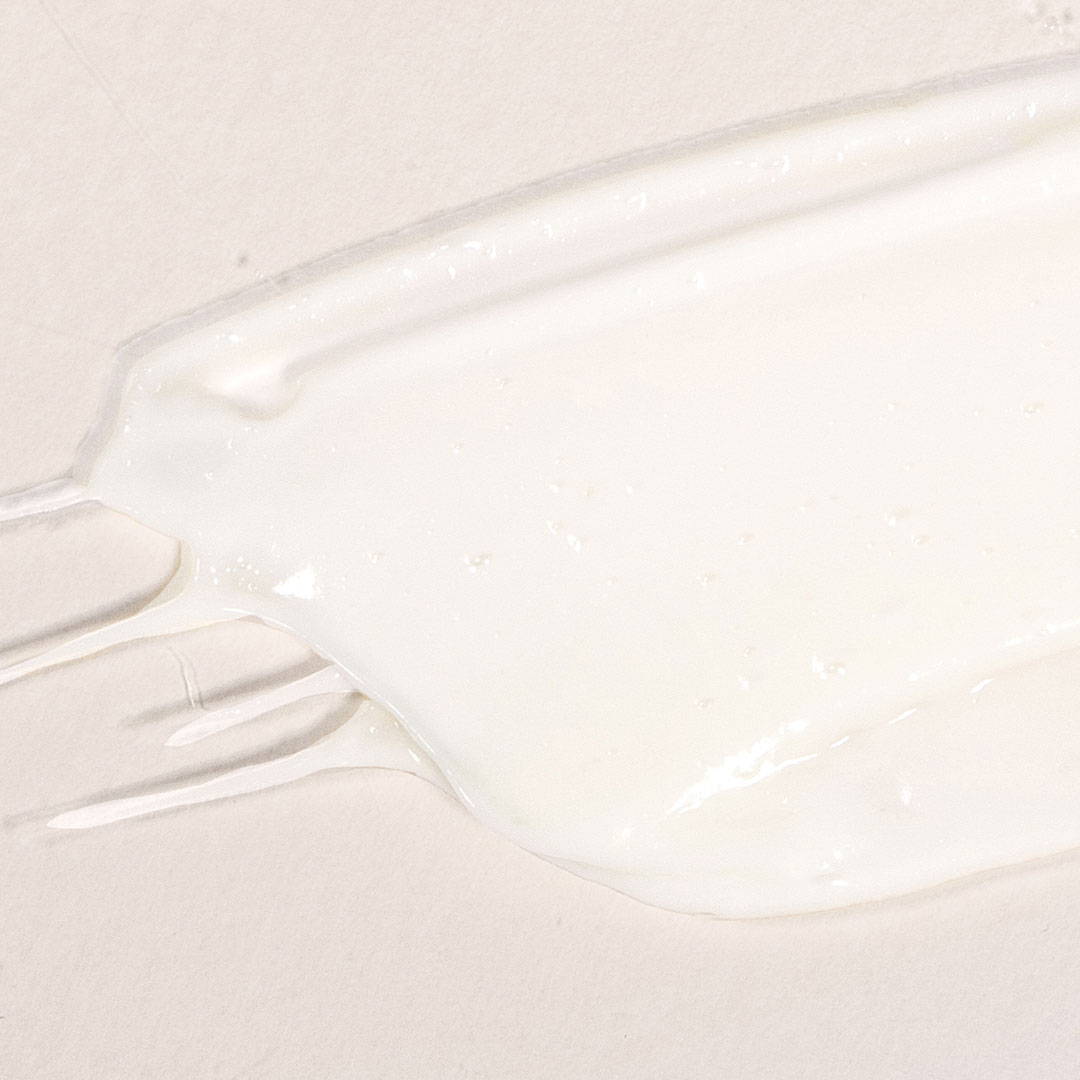 What is the difference between physical and chemical sunscreen?
It's all in the ingredients. While physical sunscreens contain safe minerals like zinc oxide, chemical sunscreens contain toxic chemicals like oxybenzone. Natural minerals provide a physical barrier between your skin and UVA/UVB rays, so they provide effective protection by sitting on top of the skin. Chemicals, on the other hand, absorb into the skin in order to absorb UV rays and convert them into heat.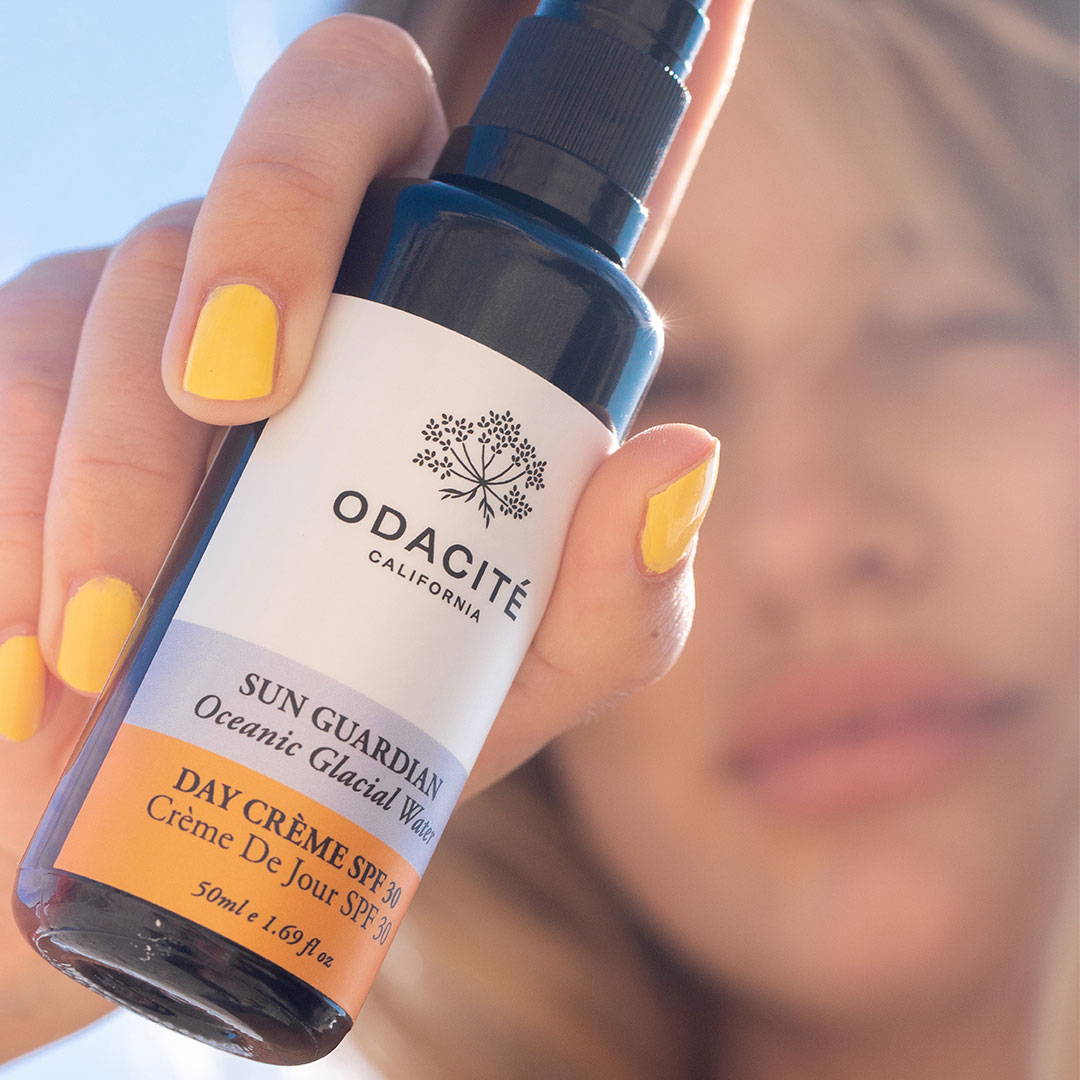 What physical sunscreen should I use?
We're so glad you asked! At Odacité, our commitment to safe skincare and sustainability pervades everything we do and every product we offer. While developing our own physical sunscreen, we made it our primary goal to offer a staple sun care product free of any toxic ingredients. The result? Sun Guardian Day Crème SPF 30.
Why Sun Guardian?
This mineral broad spectrum zinc oxide SPF 30 UVA+UVB moisturizer shields from sun damage, pollution and blue light while feeding the skin with antioxidants, vitamins, and comfort-boosting hydration à la ocean glacial water. We were so rigorous in our development of Sun Guardian that we recently received the Protect Land + Sea Certification Seal, which judges products according to the highest and most thorough standards of environmental protection.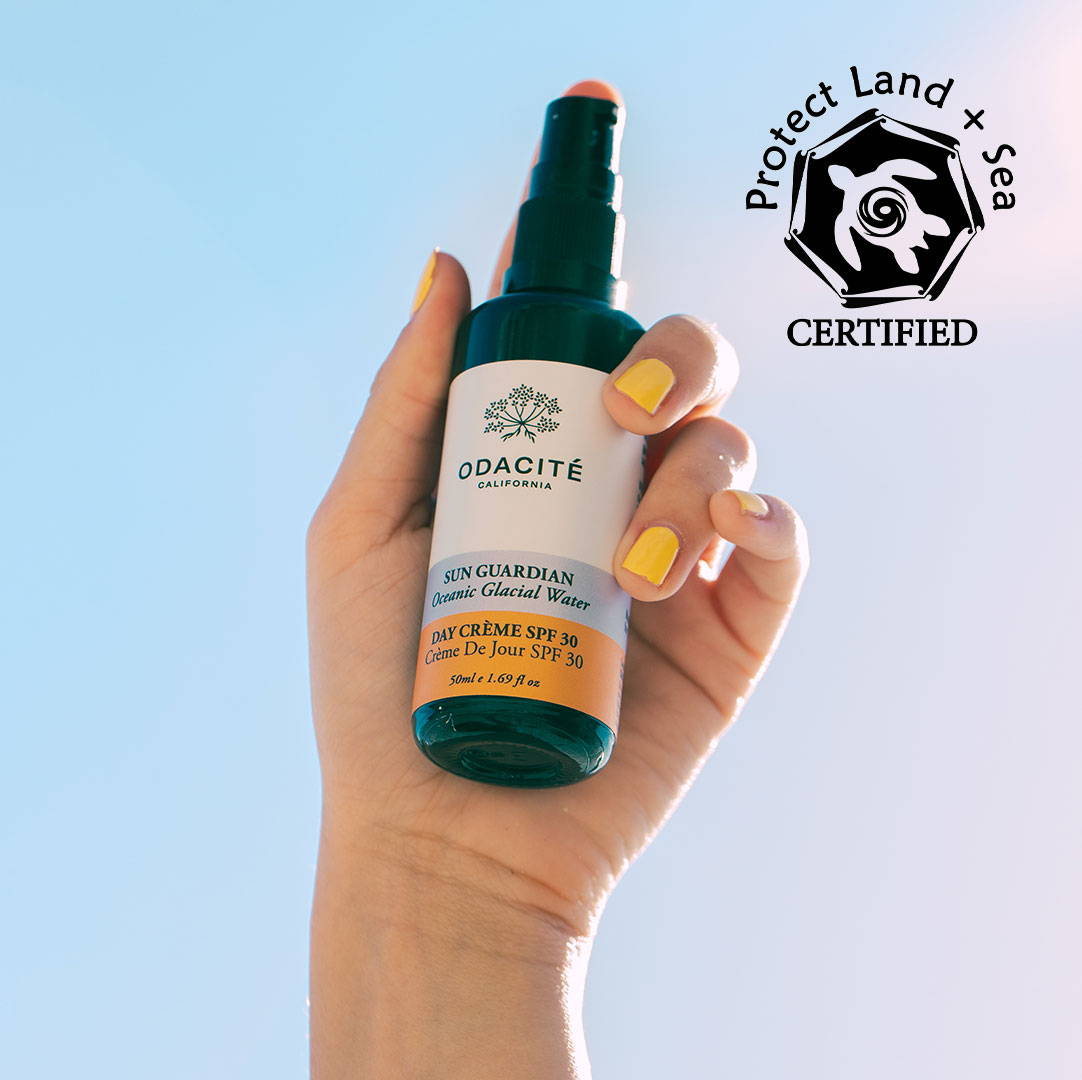 Why is the Protect Land + Sea Certification Important to Odacité?
If a product has the Protect Land + Sea Certification Seal, this means that it is not harming you or the environment. This certification provides consumers and businesses with a means of identifying ecologically safer products that do not contribute to aquatic and marine pollution.

Receiving the Protect Land + Sea Certification for Sun Guardian means that the product has been laboratory-tested using analytical-forensic techniques to verify that the product is free of the chemicals that are on the "HEL LIST."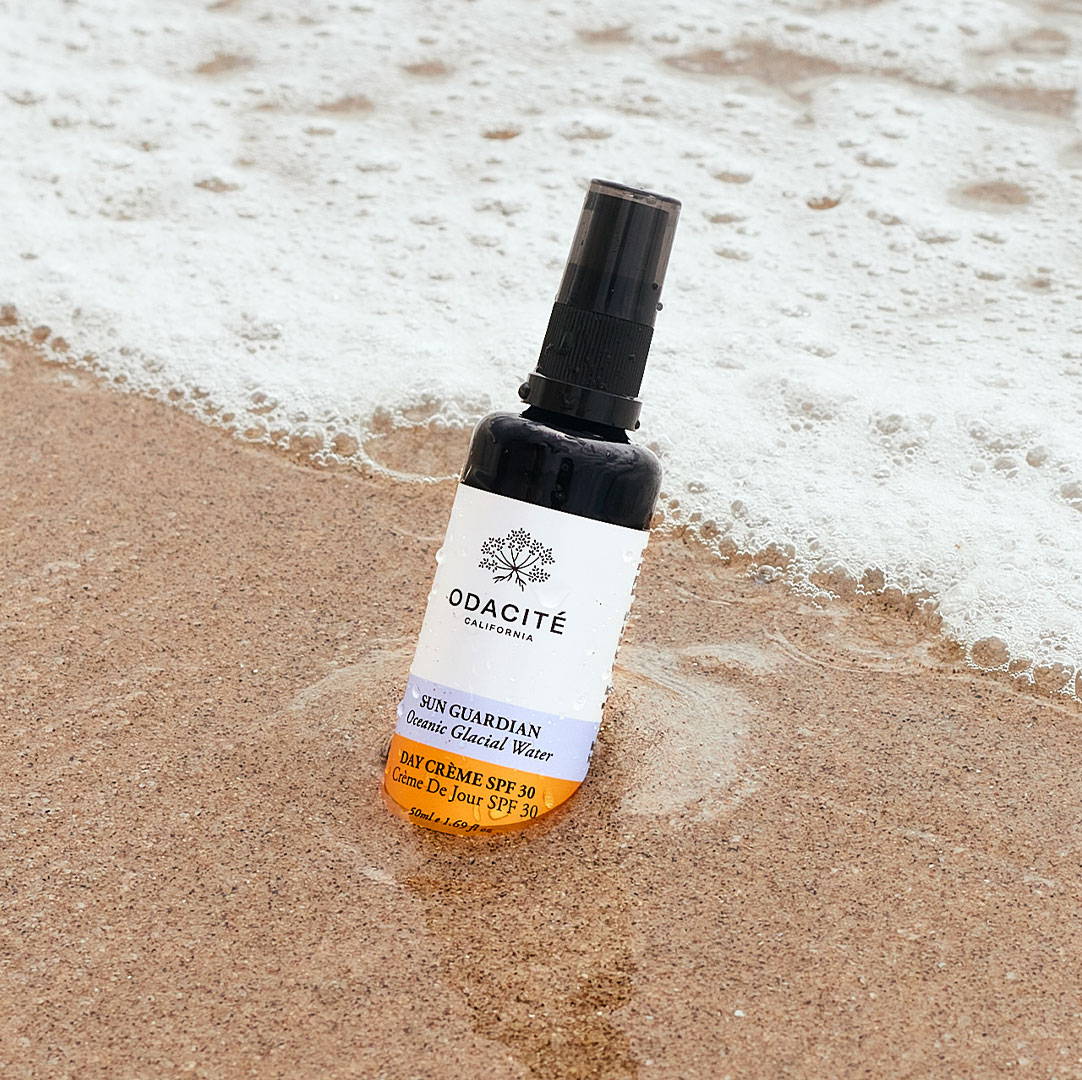 What is the HEL List?
The HEL LIST, or Haereticus Environmental Laboratory List, is a list of chemicals that are known pollutants in many different environments or wildlife, thereby posing a threat to ecosystem health. The HEL LIST includes:
Any form of microplastic sphere or beads

Any nanoparticles like zinc oxide or titanium dioxide

Oxybenzone

Octinoxate

4-methylbenzylidene camphor

Octocrylene

Para-aminobenzoic acid (PABA)

Methyl Paraben

Ethyl Paraben

Propyl Paraben

Butyl Paraben

Benzyl Paraben

Triclosan
At Odacité, we formulate effective products with pure ingredients that are safe for you, while respecting the environment and all its living beings. #ToHealthAndBeauty is a movement that advocates for the safety of beauty products as well as the earth we inhabit.