HIM VS HER: WHAT HAPPENED WHEN I LEFT MY SKINCARE
AT MY BOYFRIEND'S FOR A WEEK
When Odacité asked if I would be up for leaving my entire skincare routine at my boyfriend's place for an experiment, you could imagine my first reaction. My luxe products being left out and ignored, or even worse - exposed and vulnerable to be used INCORRECTLY at any moment! Only an insane person would agree to such a thing, but still, there's something in my brain that doesn't let me pass up a good challenge, especially when it involves my boyfriend! 😂
And so the experiment began. I subtly left my Odacité products scattered on the bathroom counter to see how my 3-in-1 wash type of boyfriend interacts with the new foreign objects over the course of a week. To ward off any suspicion, I told him I wanted to leave a set of my "bathroom stuff" at his place so I didn't have to bring my beauty bag back and forth anymore, and threw in "you can try it out if you want" just to give him a nudge into the experimental direction.
Every night that week I went over to hang out aka "check-in" and note any mysterious doings with my products 🤔. I did have to stop him in the midst of using one product incorrectly as my soul couldn't bare to see it being wasted!
The results by the end of the week were a little funny, a little odd, and most of all, eye-opening to the fact that some men just need a little push when it comes to taking care of their skin.
We both had fun at the end when I was able to show him my proper seven-step routine. The best part? He agreed to a much simpler version, as he saw a difference in his skin and actually wanted to keep up with it!
Here are my HIM vs HER Odacité findings:
Ultra-Effective Eye Cream: Formulated with organic Blue Green Algae and Pomegranate extracts this eye cream helps stimulate vitality and elasticity. Hello bright eyes!
Well, he gets an A for effort with this one.
HIM: I rubbed this one under my eyes.
HER: Since this crème is super concentrated a little goes a long way. I like to put a rice grain size amount on the back of my hand, and then using my ring finger, I tap into it and start by patting it from the inner corner of my eye outward. I try to avoid my lid area as it could get into the eyes that way.

Synergie [4] Immediate Skin Perfecting Beauty Masque: Four Synergies of ingredients to DETOX, PEEL, BRIGHTEN & FIRM. This extraordinary masque is a complete beauty treatment!
I have to admit, I am not surprised he didn't touch this one. After the experiment was done, I mixed the masque powder with some water to demonstrate how easy it was, and then applied it to both of our faces.
HIM: Wasn't sure where to begin.
HER: For a weekly treatment, I mix Synergie [4] powder with water and depending on what my skin needs that week I will either mix Honey in to soothe, Apple Cider Vinegar to zap blemishes, or lemon juice to target dark spots.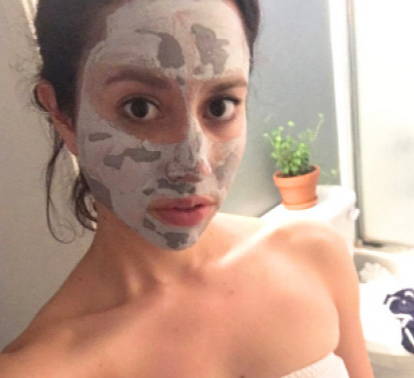 Crystal Contour Gua Sha Beauty Tool: Hand-carved in Rose Quartz, the Gua Sha is specifically hand carved to adapt to your own facial contour, making it an effective technique to smooth away the appearance of wrinkles and help to visibly firm the facial contours while awakening skin's natural glow.

To be honest, I didn't even see the Gua Sha anywhere in the house and definitely got suspicious. Come to find out, he found a way to use it ;-)
HIM: I remember seeing you use it on your face and neck one time, so I tried it on my pressure points after working out one day and it hasn't left my gym bag since.
HER: I give myself a Gua Sha Facial almost every day using my All-Embracing Serum! I also keep my stone in the fridge so when I use it, it immediately gets rid of any puffiness around my eye area.