EVERYTHING YOU NEED TO KNOW ABOUT THIS ANCIENT BEAUTY TREATMENT: GUA SHA 101
Stress, fatigue, pollution are everyday ills that affect our skin, from breakouts to dark circles and puffiness, to premature aging. Today we are reconnecting with proven ancestral medicine techniques as an effective way to overcome these skin ailments.
Used for centuries in Chinese medicine, Gua Sha is truly magical thanks to its many properties as an aesthetic and detoxifying beauty tool. Gua Sha refers to this ancient technique for massaging the face in a "scraping" motion. This effective treatment will smooth the look of wrinkles, improve skin tone & texture, firm the face contour, brighten complexion and detoxify.
The Crystal Contour Gua Sha pairs perfectly with your Odacité Serum Concentrates to boost skin's firmness and luminosity. As you're gliding it across your face, you'll gently stimulate the skin promote long-lasting beauty.
Beauty Benefits of Gua Sha
Visibly smoothes fine lines and wrinkles

Firms the look of sagging skin

Stimulates & detoxifies 

Results in a clarified, brighter complexion

Reduces the appearance of redness and breakouts


Makes skin glow like never before!


Our Crystal Contour Gua Sha tool is hand carved using exceptional quality Rose Quartz, making this treatment super luxe and high vibrational. Rose Quartz is best known for its healing and soft feminine energy that radiates Unconditional Love, Compassion, Peace, Comfort, and Tenderness. This feel-good stone opens the heart chakra and welcomes self-love and positive energy to your life.
How to get the Gua Sha Glow: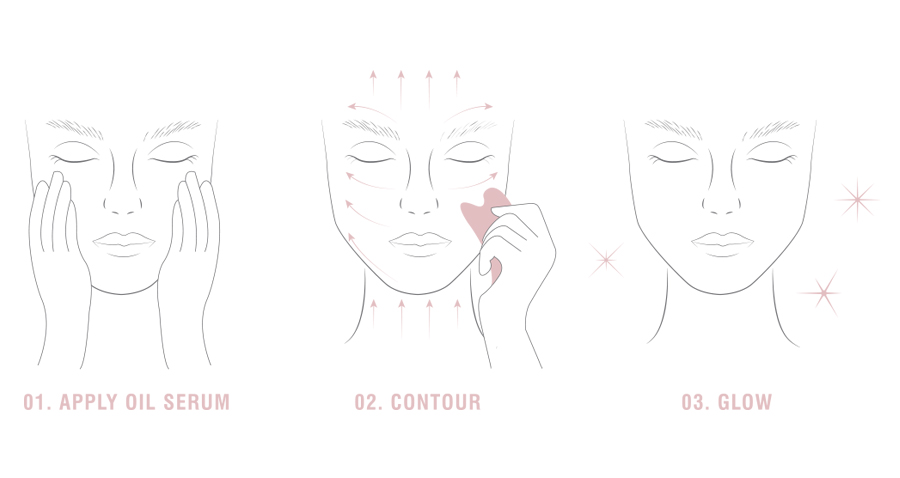 1. Cleanse the skin thoroughly and follow with your Hydra-Treatment Mist.
2. Dispense 5-10 drops of your favorite Odacité Serum Concentrate(s) into the palm of your hand. Rub hands together to warm the serum and press to apply it all over your face and neck.
3. Follow the Gua Sha facial guide below repeating each stroke 5-10 times.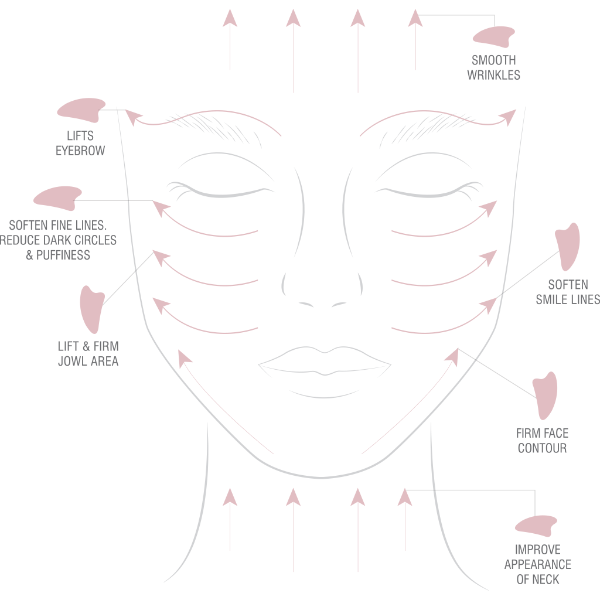 Gif: Hannah Choi / Allure
Use a medium pressure and enough oil for your stone to glide effortlessly across the skin without tugging or pulling.
As the skin is stimulated it may get a little red. Don't worry! It will quickly find its way to a natural glow.
For a pro-level treatment: Start by heating up your Gua Sha in warm water; the heat will enhance penetration of the serum. Finish with a cold Gua Sha, letting it sit in ice water for few minutes. The cold will close pores.
Practice your Gua Sha ritual regularly, 2-3 times weekly is recommended to get gorgeous results.
The more you Gua Sha, the more intuitive it becomes. Soon, you'll be able to do it in front of the TV and won't be able to live without it!
Ready to Gua Sha? Purchase your very own here!