It took time for me to transform my skincare routine into an act of Self-Love. As most French women, I've always paid a lot of attention to building an effective skincare regimen. However, I approached it more like brushing my teeth... an effective thing to do every morning and night, to protect the longevity and beauty of my skin.
After I had breast cancer and reinvented my life into a more mindful and holistic living, skincare became an opportunity to practice Self-Love. It first started with self-respect and the quest of finding completely pure products that would respect both the health and beauty, which is how Odacité was born.
Opting for truly natural & effective skincare means making a mindful decision. Choosing to nourish, cherish and care for our skin with the best nature has to offer; this itself is an act of love for ourselves and for the planet.
Once I made this choice, my skincare routine became a self-love rendez-vous with myself, 10-20 minutes of meditative and appreciative time just for me. A moment to create space out of my busy schedule to focus on myself, and a way to practice Self-Love.
Developing a daily routine, whether it consists of one or twelve steps, will not only improve your skin but also positively impact other areas of your life and create a Self-Love practice that will last a lifetime.
It is all about slowing down to be present and aware of our thoughts, physical sensations and the world around us. It's a powerful way to help us cope with the everyday life and benefit our emotional and physical well-being.
Here are some ideas to give your regular skincare routine a Self-Love makeover!
SLOW IT DOWN: Instead of rushing through your skincare routine, slow down and allow your daily regimen to become a relaxing moment you look forward to, rather than just another task on the list. When we slow down, it allows us to move through an activity with greater attention and become fully present in the moment.
LOVE IT AND STICK TO IT: I've found that when it comes to loving your skin care routine and sticking to it, it's all about seeing results. There really is no "one-size-fits-all" solution when it comes to results. So listen to your skin and pay attention. What does it need today? Once you find the answer, select the perfect Serum Concentrate targeted to your skin concern, to get the results you will love. If you need help finding what will work best for you, give us a call or email us!
EXFOLIATE TWICE A WEEK: Think of exfoliation as your way of creating a perfect canvas for your products. Without regular exfoliation, even the best products will have a hard time penetrating to make a real difference in your skin. Exfoliation is the most often skipped step, but it truly makes a huge difference in providing the results you desire. Our Synergie [4] Immediate Skin Perfecting Beauty Masque harvests the power of Papaya Enzymes and Fruit Acids to dissolve the glue that hold dead skin, allowing them to be swept away. This exfoliation is paired with the benefits of a masque while offering a pause for meditation.
INCORPORATE MEDITATION TO YOUR MASKING ROUTINE: Masking twice a week will make a huge difference in the way your skin looks and feels; it is also the perfect opportunity for meditation while you let the masque work its magic. Remember, you don't need to devote hours of meditation to reap the wellness benefits of this ancient practice, 10-15 minutes regularly is all you need. If you need a little guidance getting started, check out meditation apps like Headspace or Calm. Caring for your skin and your mind at the same time sounds like a win win!
REPEAT AFFIRMATION WHILE MOISTURIZING: Say your affirmation and visualize the cream or serum sealing in. Whatever affirmation you choose, just repeat them when applying your products. An easy way to create an affirmation is to focus on one thing that we want in our life and say "I bring ..…. into my life." Some ideas: I bring Joy into my life, I bring Peace into my life, or Harmony, Generosity, Abundance, Health, Adventures, Clarity, Patience, Love, etc. Practicing affirmation helps rewire your brain to think more positively and allows you to manifest abundance and self-love.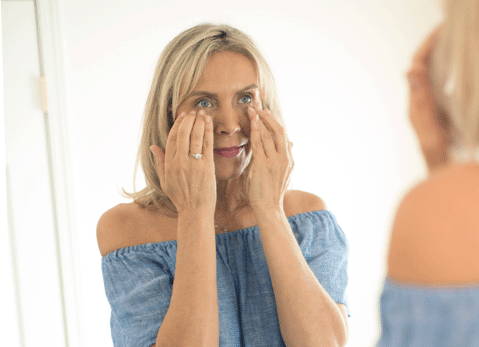 BREATHE: Deeply inhale and appreciate the different fragrances of your skincare routine. Because beauty is also about emotions, our formulas are charged with the extraordinary aromatherapy benefits of essential oils. Connecting with the five senses will transform your skincare regimen into a beautiful voyage. Delight in the aphrodisiac scent of Rose with Ac+R Youthful Glow Serum Concentrate. Relieve tension and get inspired by the scent of Lemongrass with the Gt+L Radiance Effect Serum Concentrate. Promote clear thoughts and liveliness with Cajeput in the Bl+C Pimples Serum Concentrate –– and know that all these essential oils are caring for your skin and mind.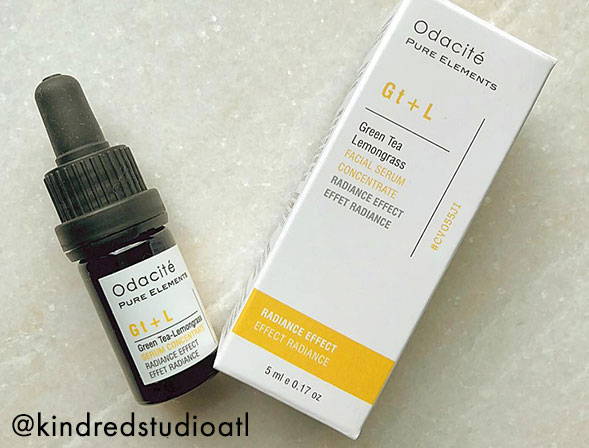 FEEL IT IN YOUR SKIN: As you apply your creams, lotions and oils, pay attention to the textures and scents. How do they feel? How do they smell? How do they penetrate into your skin? Take time to massage products properly into your skin, this will help maximize the effectiveness of each product. Each day when I use my Aloe + Immortelle Hydra-Repair Treatment Mist, I can literally feel the quenching effect of fresh organic Aloe Vera juice as it penetrates into my skin... When I use Bl+J Cell Energy Serum Concentrate, I'm transported by the Jasmine scent into memories of my summer childhood in the south of France... I love the velvety feel of the Oatmeal infusion in the All-Embracing Serum and how it glides on my skin… So many botanical wonders in each product.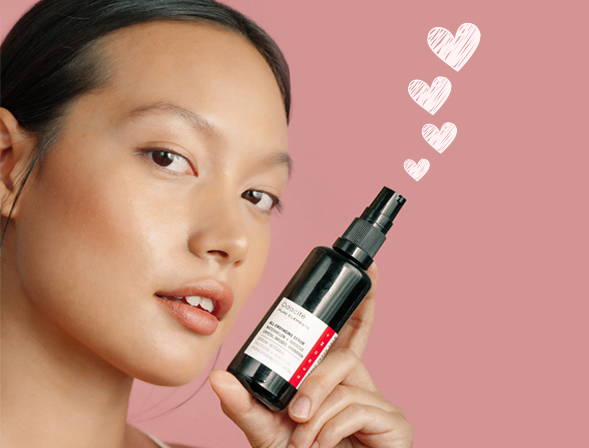 HAVE FUN: Skincare is a moment of joy, I know a lot of you are having fun being a Skin Chef with our Synergie [4] Immediate Skin Perfecting Beauty Masque. Discover some great recipes in the little booklet found inside the box or check #MySkinCocktail recipes on our website.
SAY THANK YOU: When you finish your skincare ritual, rub your hands together and bring them gently to your face. Give thanks, speak words of appreciation aloud to complete the ritual. Repeat the next day.
By transforming the simplest actions with love and care, we bring new perspectives and visions, new doorways to achieve skin (and an entire lifestyle) that is full of glow and self-love.
To Health and Beauty,
Valérie